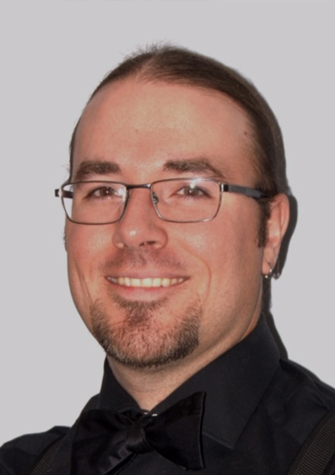 Matthew Donnelly (b. 1986) was born in Sudbury, ON and grew up in North Bay, ON. He found music in elementary school in the form of a saxophone that no one else in the class wanted to play. After spending 7 years of playing it (in addition to several other instruments), he decided to pursue a career in music and so he headed off to university. He studied composition at Wilfrid Laurier University with well-known Canadian composers Dr. Glen Buhr and Linda Caitlin Smith. In addition to writing, Matthew also studied double bass with George Greer of the Kitchener-Waterloo Symphony Orchestra and was Principal Bass of the WLU Symphony for a number of years.  
In 2013, he was awarded the Canadian Band Association's annual composition prize for his small town-inspired "River Valley Sketches." He also received an Honourable Mention in 2016 for his piece "The Solitary Life".  In 2017, he was the recipient of an Ontario Art Council grant for his chamber orchestra work, "The Grave-digger's Waltz". In his spare time, he has been the Composer-In-Residence with the Kitchener Musical Society Band, a local wind ensemble with roots back to the 1800's.
In addition to his composing, Matthew also fits a performing life into his schedule. Mostly, this consists of playing with the Kitchener Waterloo Chamber Orchestra and New Hamburg's extremely popular theatre group, The Community Players of New Hamburg. Photography and caring for his two cats round out a very busy life.